Truely bespoke golf bags
Customising your Caddy Club golf bag with embroidery offers you a unique opportunity to make a statement on the golf course. You have the freedom to choose whether you want your name, a logo, or even both expertly embroidered onto your bag. This personalisation not only distinguishes you from other golfers but also brings a special, individualised charm to your golf gear.
For professional golfers, having your name or logo prominently displayed on your bag can be a valuable branding tool. It's a powerful way to reinforce your presence on the course, making you instantly recognisable to spectators, sponsors, and fellow players. Additionally, it adds an element of professionalism and sophistication to your golfing persona.
If you're part of a golf society or club, custom embroidery on your Caddy Club golf bag can foster a sense of unity and pride among members. Imagine walking onto the course with matching, elegantly embroidered bags – it not only looks impressive but also instills a strong sense of camaraderie among your group.
Moreover, personalised golf bags also make for incredible gifts for golfers. Whether it's for a friend's birthday, a corporate giveaway, or a special occasion, a custom-embroidered golf bag is a thoughtful and memorable gift.
So, why not elevate your game and style with a personalised touch?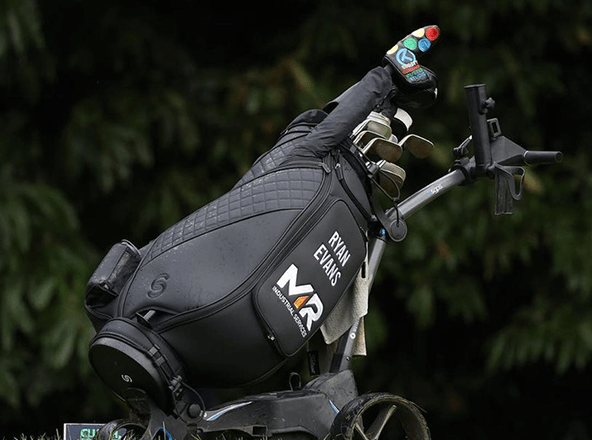 Naming
You certainly don't have to be a seasoned pro to add a personalised and distinctive flair to your golf bag. In fact, it's a popular trend among novice and amateur golf enthusiasts to incorporate their own names into their gear, transforming it into a truly one-of-a-kind piece that reflects their unique identity and passion for the sport. Whether you're just starting your golf journey or you've been enjoying the game for a while, customising your bag with your name stitched on it is a fantastic way to make your equipment stand out and truly call it your own.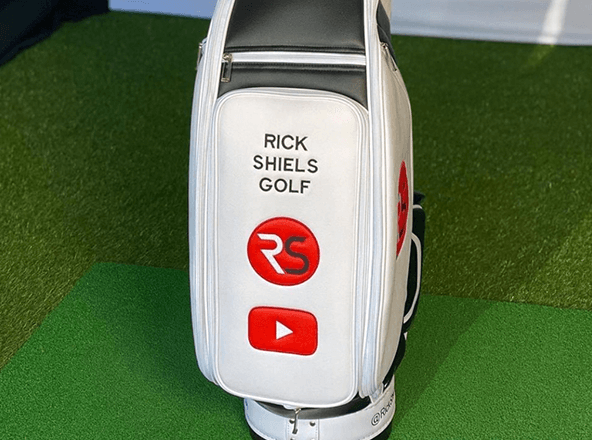 Logos
Whether it's the distinct emblem of your professional identity, the eye-catching symbol that represents you on social media, or perhaps you have a unique and creative design in your mind that you want to showcase to make your bag truly stand out, we're here to offer our expertise in customising it with full-colour stitching meticulously applied to the front pocket. Our team is prepared to transform your vision into a personalised, one-of-a-kind bag that not only serves its practical purpose but also makes a bold and unforgettable statement. So, let your creativity run wild, and let us bring your bag's personality to life with our expert craftsmanship and attention to detail.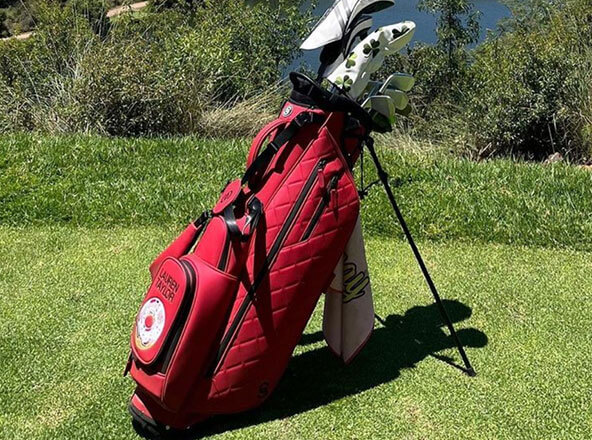 Expertly Embroidered
Our embroidery process for our golf bags is exceptional, setting a high standard for precision and quality. We employ state-of-the-art embroidery machines that are specifically designed to meticulously match your logo with unrivalled accuracy. These machines are equipped with cutting-edge technology, allowing us to capture even the finest details of your design, ensuring a logo that looks stunning and professional on every bag. The result is not just a golf bag but a work of art that proudly showcases your brand, leaving a lasting impression on the golf course.
Embroidery Ready Products